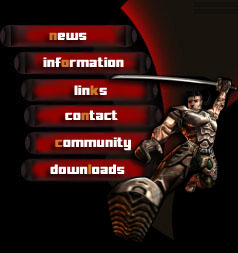 Official Mappack from ION Storm (Dallas)



EPISODE 1
- Abandoned Base -

8-16 players

by Stevie Case

Original Quake 1 map by John Romero

Many of you have been asking for it and now you got it - a remake of Quake 1's DM3: The Abandoned Base. The episode one weapon set fits closer than any of the other episodes, plus it's futuristic setting makes it a perfect match. Hop on in there and shed a quiet tear, ya badass!
- Medieval Future -

4-8 players

by Larry Herring

Feeling limited by the weapons tied to their specific episode, Larry decided to try what many of you out there will be doing soon (with the map tools) - mix an episode's textures with another one's weapon set. The result? Pure magic, as you can see for yourself in this tightly designed map where an ancient castle flies through space!

EPISODE 2
- Acropolis Arena -

4-8 players

by Luke Whiteside and Chris Cummings

A medium-sized map with lots of fast action thanks to some strategically-placed teleporters, this map has a lot of potential for campers thanks to the many perch points located in the various open-air arenas. Just learn where they are and everything will be okay...
- Gladiator -

2-4 players

by Chris Perna

Similar to the Roman Colosseum where wimpy Gladiators got torn down by wild tigers, this map was designed to be inhabited by wild players instead. It's a very small map with just a few rooms outside the exits, which ensures that a violent exchange of Trident tips is always just around the corner.
- Circe of Death -

4-8 players

by Larry Herring

Original DOOM II map by John Romero

One of our favorite DOOM II maps (other than MAP01) is MAP 11, Circle of Death (or 'O' of Destruction), so Larry did a remake of it in the Greek setting so we could keep the old magic alive. Highly interconnected like the synapses in your brain, you'll be seeing plenty of action, especially if all the other players move around in the map!

(Yes, the name of the map is Circe, not circle)
- Wrath of Ares -

8-16 players

by Stevie Case

As a tribute to her favorite Quake 1 maps, Stevie has taken elements of DM2, DM3, DM6 and the Elder God Shrine and incorporated them into a massive map capable of handling a major fragfest while players enjoy the cartography and texturing as gibs and blood spray down the ancient frescoes.

EPISODE 3


- Hellkeep -

4-8 players

by Chris Perna

Do not fear the Hellkeep! It may be a very dark place full of pentagrams and despair -- but you can liven it up with your flying meteors and ballista log shots. Lots of fun places to hide in the shadows where you can pop out and give someone the twig, your hotrocks, or your big log!
- Forsaken Outpost -

8-16 players

by Luke Whiteside

The remains of an ancient fortress is the setting for this large map. There's a pretty obvious hotspot all along the dock where most of the action takes place, which helps the map seem smaller than it really is since you're almost always seeing battle and if not, it's quick to get into one - as long as you're not afraid of getting shredded by the silverclaw.
- Bloodkeep -

4-8 players

by Chris Perna

Sick, twisted, and full of blood, Chris Perna keeps the evil maps a-comin' with his latest, The Bloodkeep. Swim through the underground caverns of plasma for powerful artifacts to use on your enemies while you explore a shattered Keep once ruled by the mighty sorcerer Organon. Once Organon laid eyes on the Hellkeep, he just blew this place off and moved.

CTF MAPS
- Olympus CTF -

8-16 players

by Luke Whiteside

Take the original Trials of Olympus deathmatch map and flip one half of it and you have a new CTF map for Episode Two. Joined together at the Goldensoul, you'll notice quite a few changes from the original that will keep the pace snappy and the gibs-a-flyin'.
- The Outlands -

4-8 players

by Luke Whiteside

The strange realm of the Outlands is the setting for this Episode Three CTF map. The map itself is very small, so a 4-player CTF game will work just fine, but with more players there will be plenty of action... and most of it takes place in the floating snowy landmasses that are easy to get blasted off of into gib oblivion..
This text is original written by ION Storm.